Spontaneous Twitter Times Square Webcam Event
August 26th, 2007
Posted in News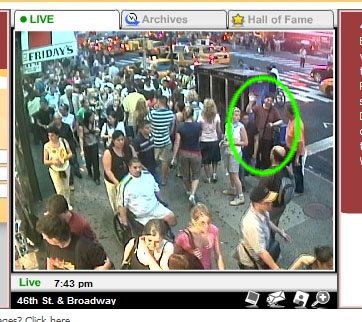 This past Friday I was Twittering away in NYC, and Andrew from England mentioned he was looking at some webcams in Times Square. So, when I got to Times Square I found the webcam he was looking at and Twittered to him I was there, and then a bunch of people on Twitter also tuned in to the webcam and took a lot of pics. Check out the discussion on the forum here and here.
Lots more pics and a transcript in the rest of this post…
These pics are from Dadist: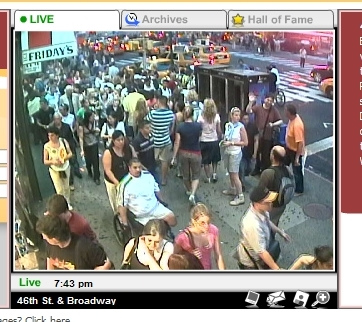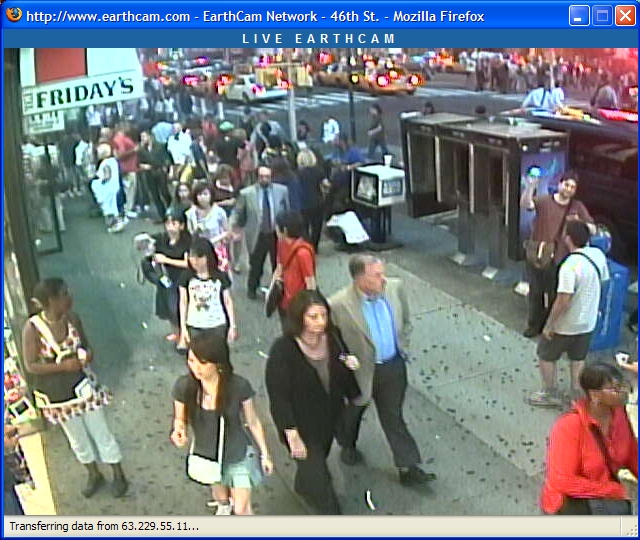 These pics from Andrew from England: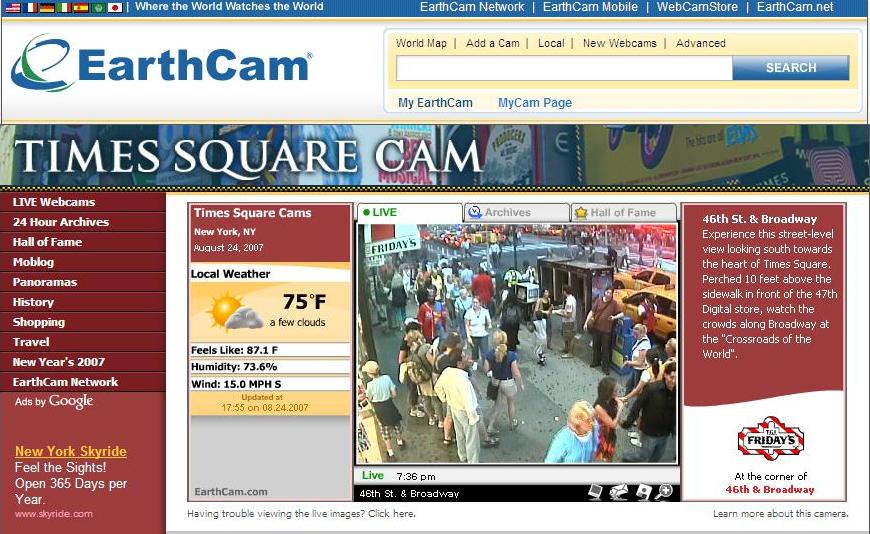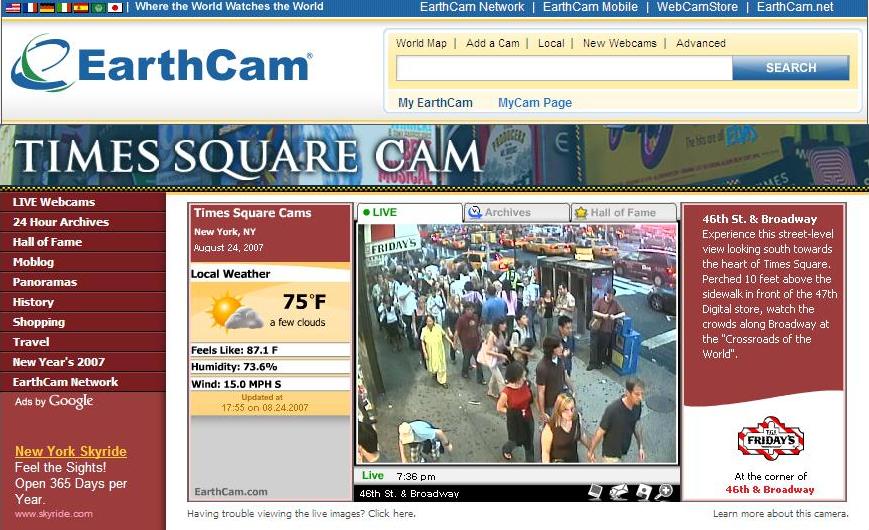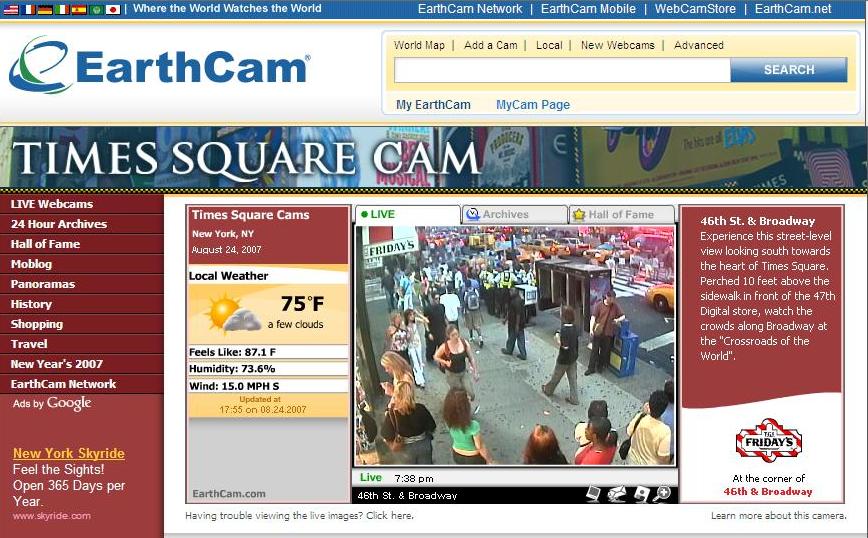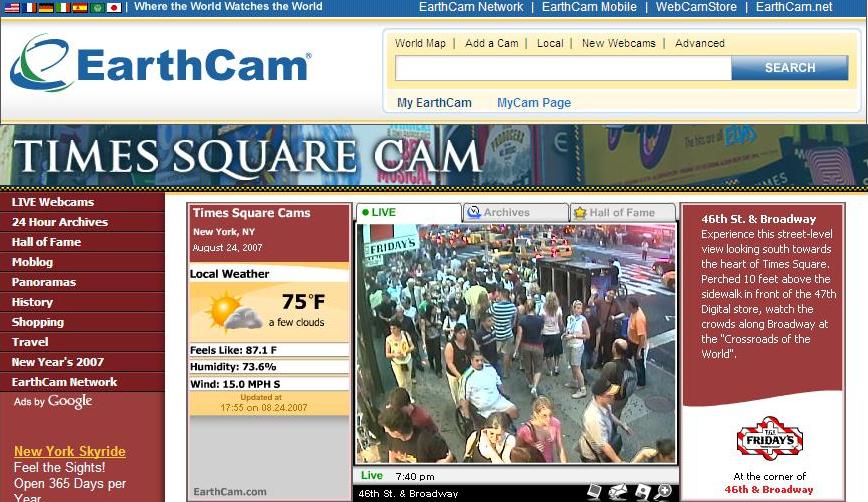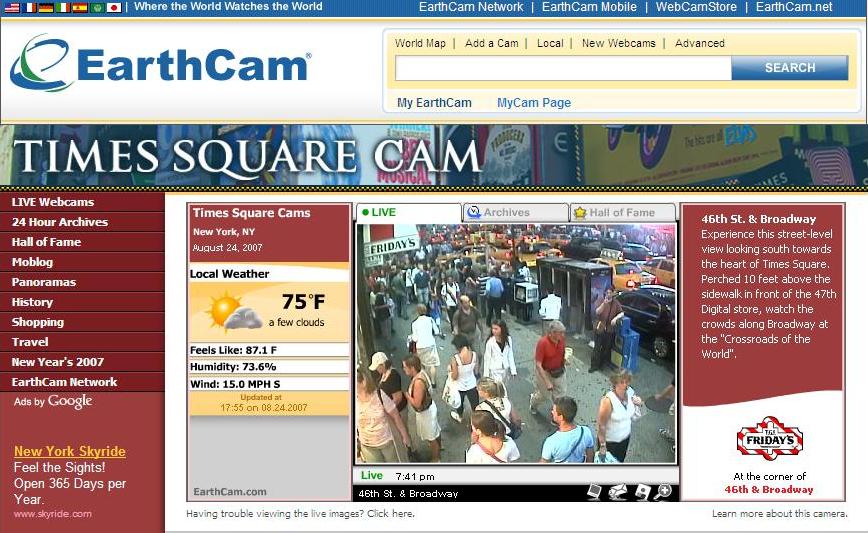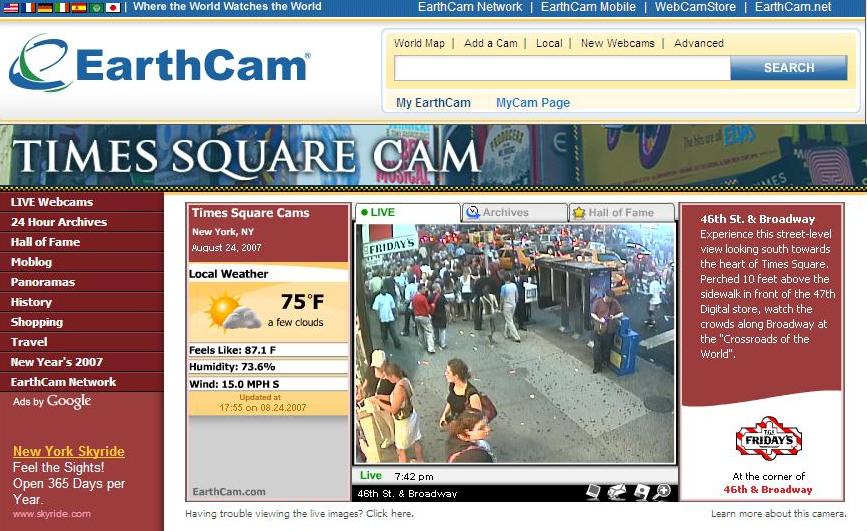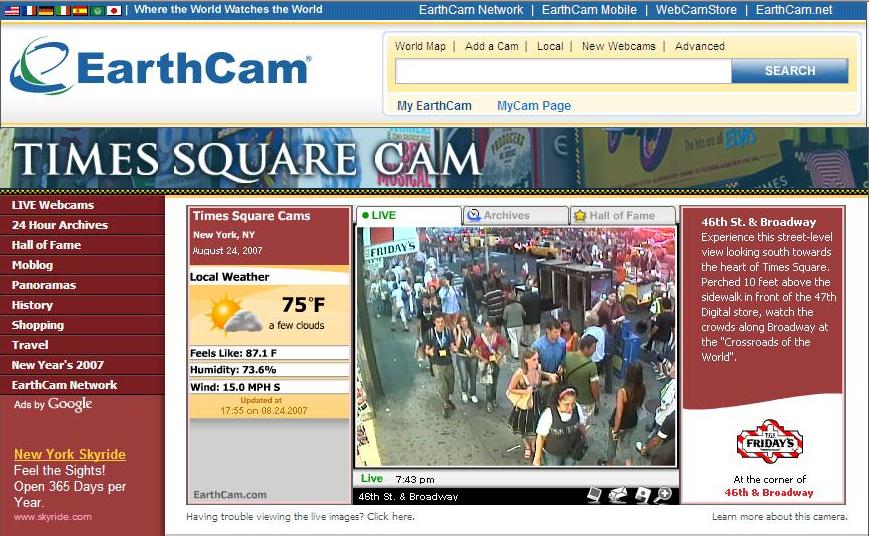 Here is the transcript from Twitter (in reverse order of course). I tried to copy and paste the formatted HTML in here and it kind of worked but WordPress only took about a half page of it and threw out there rest. So, this is a raw text dump of the Twitter of the whole event.
Frank Edward Nora ons some kind of Ruby Tuesday visiting training crew or something sitting around me on the bus, all wearing black 08:36 PM August 24, 2007 from web Icon_star_empty Icon_trash
Andrew andrew0871 One day I will learn to use the Twitter commands properly, added a Frank shot to the webcam hall of fame. 01:33 AM August 25, 2007 from web Icon_star_empty
Frank Edward Nora ons @BoxDrink I don't know I got it at the MoMA store 08:32 PM August 24, 2007 from web in reply to BoxDrink Icon_star_empty Icon_trash
Biz Stone biz BART > SFO > LA 05:32 PM August 24, 2007 from txt Icon_star_empty
Frank Edward Nora ons the boing ball is "not designed to bounce" 08:31 PM August 24, 2007 from web Icon_star_empty Icon_trash
Q BoxDrink @ Frank- where can I get one? 07:28 PM August 24, 2007 from twitterrific Icon_star_empty
Frank Edward Nora ons reading the instruction manual for the "Boing Magic Light Ball" 08:27 PM August 24, 2007 from web Icon_star_empty Icon_trash
Corey Denis crazywanda Dear wilco, pls play At Least Thats What U Said tonight at the greek. Just 4 me. Kthxbai. 05:18 PM August 24, 2007 from txt Icon_star_empty
Oblivion Ratula Oblivion Morrissey is going to be at a rinky-dink theatre in Waukegan, I'll. Hittin' the big time!!! 07:17 PM August 24, 2007 from im Icon_star_empty
Frank Edward Nora ons some dude ask to make a call on my phone? wtf seems like a scam, no way 08:17 PM August 24, 2007 from web Icon_star_empty Icon_trash
Oblivion Ratula Oblivion @ons that's better 🙂 but I still can't help you out. 07:16 PM August 24, 2007 from im in reply to ons Icon_star_empty
Frank Edward Nora ons @DaveWares no problem I'll get the 8:30 and I got plenty of Bottom to watch 08:15 PM August 24, 2007 from web in reply to DaveWares Icon_star_empty Icon_trash
Q BoxDrink what are your thoughts on that, you go more often than me. 07:14 PM August 24, 2007 from twitterrific Icon_star_empty
Q BoxDrink you gotta go off menu, they make up their own flavours, kinda neat. school of argument about wether they've been the same since the buyout 07:13 PM August 24, 2007 from twitterrific Icon_star_empty
DaveWares DaveWares @ons sorry about the bus, enjoy your juice and have a safe journey home:) 01:12 AM August 25, 2007 from TwitBin in reply to ons Icon_star_empty
Frank Edward Nora ons I just got the classic banana berry 08:11 PM August 24, 2007 from web Icon_star_empty Icon_trash
David Ward DavidWard sorry, $1 off…next bid would have to be over $100,000,000…fakers 05:11 PM August 24, 2007 from web Icon_star_empty
Q BoxDrink Appreciate the sacrifice frank- btw, have you noticed their off menu items? ask for a pink starburst… so good 07:08 PM August 24, 2007 from web Icon_star_empty
David Ward DavidWard does anyone care that the Big Mac is 40 years old? I don't… 05:08 PM August 24, 2007 from web Icon_star_empty
cb60089 cb60089 @ons try the cold buster.. 07:07 PM August 24, 2007 from web in reply to ons Icon_star_empty
Frank Edward Nora ons thanks everybody. missed the 8:00 bus so I am gonna get jamba juice 08:07 PM August 24, 2007 from web Icon_star_empty Icon_trash
David Ward DavidWard WTF????????????? 05:05 PM August 24, 2007 from web Icon_star_empty
Andrew andrew0871 Screen shots sent, I am going to get some sleep. Have a safe journey home. 01:05 AM August 25, 2007 from web Icon_star_empty
DaveWares DaveWares Off to bed now, night all.:) 01:05 AM August 25, 2007 from web Icon_star_empty
David Ward DavidWard I think somethings wrong with the bid for the unlocked iPhone, it's up to $100,000,000!!!! http://tinyurl.com/26br8w 05:04 PM August 24, 2007 from web Icon_star_empty
dadaist dadaist webcams + twitter = fun 2 days ago from web Icon_star_empty
Frank Edward Nora ons @dadaist yeah summer, tourists, friday nite… really crowded 07:58 PM August 24, 2007 from web in reply to dadaist Icon_star_empty Icon_trash
Q BoxDrink what is up with that bowling ball? 06:57 PM August 24, 2007 from twitterrific Icon_star_empty
MeanderingMouse MeanderingMouse Pics of Frank Edward Nora in times square are live on Overnightscape forum now – the man – the legend 06:57 PM August 24, 2007 from twitterrific Icon_star_empty
Q BoxDrink damn, missed frank on the webcam 🙁 Lookin at Jeff's screencaps 06:56 PM August 24, 2007 from twitterrific Icon_star_empty
dadaist dadaist @ons those founding fathers sure liked to fu ck 2 days ago from web in reply to ons Icon_star_empty
dadaist dadaist @ons jeez you have more people on one block than we have in some towns 2 days ago from web in reply to ons Icon_star_empty
dadaist dadaist @ons the web makes the world a small place 2 days ago from web in reply to ons Icon_star_empty
Frank Edward Nora ons @dadaist wow cool screenshots – that was fun 07:53 PM August 24, 2007 from web in reply to dadaist Icon_star_empty Icon_trash
DaveWares DaveWares @dadaist @ons I only just got to the pc in time to see it all 12:53 AM August 25, 2007 from TwitBin in reply to dadaist Icon_star_empty
dadaist dadaist and like that … he's gone! 2 days ago from web Icon_star_empty
dadaist dadaist @ons another of you with the boing : http://tinyurl.com/2xnncq 2 days ago from web in reply to ons Icon_star_empty
DaveWares DaveWares @ons can you tell andrew I'm watching too 12:51 AM August 25, 2007 from TwitBin in reply to ons Icon_star_empty
dadaist dadaist @ons that sidewalk is *covered* in gum 2 days ago from web in reply to ons Icon_star_empty
MeanderingMouse MeanderingMouse @ Frank Wdward Nora – Posting pics to your forums in about 5 mins 06:50 PM August 24, 2007 from twitterrific Icon_star_empty
Frank Edward Nora ons please 07:50 PM August 24, 2007 from web Icon_star_empty Icon_trash
Oblivion Ratula Oblivion @ons, how about a "please"? 06:50 PM August 24, 2007 from im in reply to ons Icon_star_empty
Frank Edward Nora ons ok I gotta get movin… gotta head on home… 07:50 PM August 24, 2007 from web Icon_star_empty Icon_trash
dadaist dadaist @ons here is you : http://tinyurl.com/2f8ans 2 days ago from web in reply to ons Icon_star_empty
DaveWares DaveWares @ons Haha I am the puppetmaster:) 12:49 AM August 25, 2007 from TwitBin in reply to ons Icon_star_empty
DaveWares DaveWares @ons can you wave it in the air? 12:48 AM August 25, 2007 from TwitBin in reply to ons Icon_star_empty
Andrew andrew0871 yep, got the boing. You gotta be careful waving in the street with your ball out. 12:48 AM August 25, 2007 from web Icon_star_empty
dadaist dadaist lol 2 days ago from web Icon_star_empty
MeanderingMouse MeanderingMouse LOL – Cool Boing Ball Changing colors 06:47 PM August 24, 2007 from twitterrific Icon_star_empty
dadaist dadaist here is you : http://tinyurl.com/2f8ans 2 days ago from web Icon_star_empty
Frank Edward Nora ons everyone email me screenshots 07:47 PM August 24, 2007 from web Icon_star_empty Icon_trash
DaveWares DaveWares @ons lovely coloures 12:47 AM August 25, 2007 from TwitBin in reply to ons Icon_star_empty
Andrew andrew0871 very cool, first time I have seen someone I 'know' on a street webcam 12:46 AM August 25, 2007 from web Icon_star_empty
DaveWares DaveWares @ons I see you too! 12:46 AM August 25, 2007 from TwitBin in reply to ons Icon_star_empty
Frank Edward Nora ons oh I can show you my boing ball 07:45 PM August 24, 2007 from web Icon_star_empty Icon_trash
MeanderingMouse MeanderingMouse Taking screenshots of Frank in Times Square to post on ONS podcast forums 06:45 PM August 24, 2007 from twitterrific Icon_star_empty
MeanderingMouse MeanderingMouse Holy Crap – Times Squares Looks CRAZY – gotta get out there for a visit 06:45 PM August 24, 2007 from twitterrific Icon_star_empty
Frank Edward Nora ons ok I gotta take a pic of y'all now 07:45 PM August 24, 2007 from web Icon_star_empty Icon_trash
David Ward DavidWard looking at ecommerce alternatives. Any suggestions? Anyone use eBay's ProStores? 04:44 PM August 24, 2007 from web Icon_star_empty
dadaist dadaist perfect 2 days ago from web Icon_star_empty
Frank Edward Nora ons people are wondering what I am waving it 07:44 PM August 24, 2007 from web Icon_star_empty Icon_trash
MeanderingMouse MeanderingMouse watching Frank wave on times square webcam – trippy as hell 06:44 PM August 24, 2007 from twitterrific Icon_star_empty
dadaist dadaist ok wait while i upload 2 days ago from web Icon_star_empty
Andrew andrew0871 there you go dadist 12:43 AM August 25, 2007 from web Icon_star_empty
Andrew andrew0871 http://tinyurl.com/2ddyne 12:43 AM August 25, 2007 from web Icon_star_empty
Frank Edward Nora ons yes leaning on blue newpaper machine 07:43 PM August 24, 2007 from web Icon_star_empty Icon_trash
Frank Edward Nora ons @dadaist yes that's me 07:43 PM August 24, 2007 from web in reply to dadaist Icon_star_empty Icon_trash
MeanderingMouse MeanderingMouse LOL – I see your ass Frank – crazy!! 06:43 PM August 24, 2007 from twitterrific Icon_star_empty
dadaist dadaist you just waved 2 days ago from web Icon_star_empty
MeanderingMouse MeanderingMouse @ Frank – are you leaning on a blue newspaper vending machine?? 06:42 PM August 24, 2007 from twitterrific Icon_star_empty
Frank Edward Nora ons it is by TGI Friday, broadway and 46 07:42 PM August 24, 2007 from web Icon_star_empty Icon_trash
dadaist dadaist next to 3 phone booths with elbow on blue paper stand 2 days ago from web Icon_star_empty
MeanderingMouse MeanderingMouse looking on the times square webcam for Frank 06:41 PM August 24, 2007 from twitterrific Icon_star_empty
Frank Edward Nora ons @andrew0871 give dadist the link 07:41 PM August 24, 2007 from web in reply to andrew0871 Icon_star_empty Icon_trash
dadaist dadaist @ons theres 16 times sq webcams! 2 days ago from web in reply to ons Icon_star_empty
Andrew andrew0871 I will email it to you 12:40 AM August 25, 2007 from web Icon_star_empty
Frank Edward Nora ons awesome, you got a pic? 07:40 PM August 24, 2007 from web Icon_star_empty Icon_trash
dadaist dadaist which one 2 days ago from web Icon_star_empty
Andrew andrew0871 nice 12:39 AM August 25, 2007 from web Icon_star_empty
Andrew andrew0871 stand in front of the newspaper machines 12:39 AM August 25, 2007 from web Icon_star_empty
Frank Edward Nora ons webcam in times sq 07:39 PM August 24, 2007 from web Icon_star_empty Icon_trash
Andrew andrew0871 yeah gotcha, walk to your left and forward a little and I will do a screen shot 12:38 AM August 25, 2007 from web Icon_star_empty
Frank Edward Nora ons yo take a screen shot I want to see it 07:38 PM August 24, 2007 from web Icon_star_empty Icon_trash
dadaist dadaist @ons where?? 2 days ago from web in reply to ons Icon_star_empty
Frank Edward Nora ons ok here I am in the red shirt, see me? 07:37 PM August 24, 2007 from web Icon_star_empty Icon_trash
Frank Edward Nora ons @andrew0871 I will there there in 1 minute 07:36 PM August 24, 2007 from web in reply to andrew0871 Icon_star_empty Icon_trash
Oblivion Ratula Oblivion @ons The M3 looks sweet, but I need to stick to my Karma for a while yet. 06:34 PM August 24, 2007 from im in reply to ons Icon_star_empty
Andrew andrew0871 I am watching the phone boxes outside TGI Fridays on 46th and Broadway 12:33 AM August 25, 2007 from web Icon_star_empty
Frank Edward Nora ons yo I am by olive garden anyone lookin at the webcam? 07:32 PM August 24, 2007 from web Icon_star_empty Icon_trash
Nick Starr NickStarr Rain 2 weekends in a row..first Wisconsin now Florida (the sunshine state) 07:30 PM August 24, 2007 from twitterrific Icon_star_empty
Oblivion Ratula Oblivion Taking some photos of rural flooding of the Des Plaines River. 06:30 PM August 24, 2007 from im Icon_star_empty
Frank Edward Nora ons oh man I want a Korg M3 synthesizer but it is like $2500 07:30 PM August 24, 2007 from web Icon_star_empty Icon_trash
slikstr slikstr i want to TGIF, but i can't seem to get myself out of this office! 07:28 PM August 24, 2007 from web Icon_star_empty
Jaya ♥ bluesapphire Envying others' Shelfari bookshelves. 02:27 AM August 25, 2007 from TwitBin Icon_star_empty
Nick Starr NickStarr Bored …. 07:27 PM August 24, 2007 from twitterrific Icon_star_empty
MeanderingMouse MeanderingMouse going to see Pablo Francisco tonight at The Improv – excited – guy is funnier than hell 06:20 PM August 24, 2007 from twitterrific Icon_star_empty
Frank Edward Nora ons @MeanderingMouse boing ball is awesome (though it doesn't seem all that well suited to boinging or bouncing) 07:16 PM August 24, 2007 from web in reply to MeanderingMouse Icon_star_empty Icon_trash
Alex Williams podcasthotel dang. i hate it when i do that. editing is dead meme seems to be popular these days. i think lifecasting will just change how we edit. 04:15 PM August 24, 2007 from twitterrific Icon_star_empty
Alex Williams podcasthotel the editing is dead meme se 04:14 PM August 24, 2007 from twitterrific Icon_star_empty
raequel solomon systris i hate my stepsisters and my stepmama. no one in this house talks to people when they have an issue, they just bitch behind their backs. 07:13 PM August 24, 2007 from web Icon_star_empty
Frank Edward Nora ons FYE is like a 3D virtual reality version of bittorrent, in the real world 07:10 PM August 24, 2007 from web Icon_star_empty Icon_trash
David Ward DavidWard gardener didn't show up today…and I pay them to come once a week. WTF? 04:07 PM August 24, 2007 from web Icon_star_empty
Frank Edward Nora ons at fye, coby 256mb MP3 player on sale for $12.99 07:04 PM August 24, 2007 from web Icon_star_empty Icon_trash
David Ward DavidWard this day is dragging…going to see Daughtry tonight, should be cool. 04:04 PM August 24, 2007 from web Icon_star_empty
MeanderingMouse MeanderingMouse wondering what the hell a "Boing Ball" is = expect a full report on next ONS Podcast 😉 06:00 PM August 24, 2007 from twitterrific Icon_star_empty
Frank Edward Nora ons oh man how cool is this I got a boing ball of my very own and it is workin fine! 06:59 PM August 24, 2007 from web Icon_star_empty Icon_trash
David Ward DavidWard and no it's not because I'm a Cowboys fan, I just think what he did is beyond cruel and sickening. 03:58 PM August 24, 2007 from web Icon_star_empty
David Ward DavidWard I hope Michael Vick is done for good in the NFL now that he is suspended indefinitely. Hopefully he'll spend some quality time in prison… 03:57 PM August 24, 2007 from web Icon_star_empty
Frank Edward Nora ons I got it! I got boing ball. 06:57 PM August 24, 2007 from web Icon_star_empty Icon_trash
Aaron Bates bigshow Jenny's birthday is Monday, if you want, feel free to leave her a message at 206-202-2343 and answer the question of the week too. 03:55 PM August 24, 2007 from web Icon_star_empty Icon_red_lock
Frank Edward Nora ons haha they got boing ball across the street, I gotta get it 06:53 PM August 24, 2007 from web Icon_star_empty Icon_trash
Escapist from LA GreatEscapist Drove up Coral Canyon Drive above PCH for views of the Pacific. Just beautiful! Lots of surfers and beach people about. 03:50 PM August 24, 2007 from TwitterMail Icon_star_empty
MeanderingMouse MeanderingMouse MActheRipper not Ripping – Argh 05:50 PM August 24, 2007 from twitterrific Icon_star_empty
Felix redragon need to eat something fast! 05:49 AM August 25, 2007 from twitterrific Icon_star_empty
Felix redragon cannot wait for dinner any longer, 05:49 AM August 25, 2007 from twitterrific Icon_star_empty
Frank Edward Nora ons I want a f'ing boing ball but they are all out 06:49 PM August 24, 2007 from web Icon_star_empty Icon_trash
MeanderingMouse MeanderingMouse @Disney Podcast – DBA = Doing Business As 05:47 PM August 24, 2007 from twitterrific Icon_star_empty
Bryan Alexander BryanAlexander @glassbleed, @pswansen, thank you for the coffee thoughts. Good one, @BSawhill. 06:30 PM August 24, 2007 from web Icon_star_empty
Jeevan Padiyar JBrry Learning about widgets…All kinds of widgets…woo hooo. 06:30 PM August 24, 2007 from web Icon_star_empty
David Ward DavidWard evaluating new ecommerce providers…anyone using eBay's ProStores? 03:24 PM August 24, 2007 from web Icon_star_empty
Bryan Alexander BryanAlexander Good day: fun talk, *great* discussions, delightful library tour. 06:22 PM August 24, 2007 from web Icon_star_empty
Frank Edward Nora ons @andrew0871 I will let you know when I am outside and near the cams 06:19 PM August 24, 2007 from web in reply to andrew0871 Icon_star_empty Icon_trash
Frank Edward Nora ons Richard Pare's photos of russia are awesome 06:18 PM August 24, 2007 from web Icon_star_empty Icon_trash
Andrew andrew0871 Watching webcams and playing Super Monkey Ball Touch & Roll on Nintendo DS 11:17 PM August 24, 2007 from txt Icon_star_empty
MeanderingMouse MeanderingMouse thinking about going to see Pablo Francisco again tonight at the Improv 05:16 PM August 24, 2007 from twitterrific Icon_star_empty
MeanderingMouse MeanderingMouse dealing with clients who's ignorance is making me angry – trying to help Mr. Mark setup a DBA 05:15 PM August 24, 2007 from twitterrific Icon_star_empty
Frank Edward Nora ons there is some good art here at MoMA, but most of it is so worthless it is laughable 06:14 PM August 24, 2007 from web Icon_star_empty Icon_trash
chelpixie chelpixie Tp to @spin and roadup 06:13 PM August 24, 2007 from web Icon_star_empty Icon_red_lock
Aaron Bates bigshow today iz my 5 yr wedding anniv 03:12 PM August 24, 2007 from web Icon_star_empty Icon_red_lock
Frank Edward Nora ons haha blank canvases, what a load of bs 06:08 PM August 24, 2007 from web Icon_star_empty Icon_trash
Andrew andrew0871 I might try and spot you on the NYC webcams page, good view of the phone boxes outside TGI Fridays on 46th and Broadway 11:04 PM August 24, 2007 from web Icon_star_empty
Frank Edward Nora ons MoMA, 6th floor, "What is Painting?" 06:01 PM August 24, 2007 from web Icon_star_empty Icon_trash
And finally… my point of view looking at the camera…