Severe Repair: The Broken Text
April 5th, 2008
Posted in News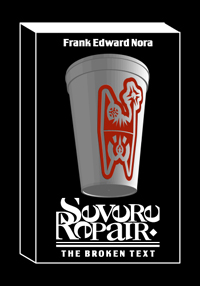 I've been working on my sci-fi story "Severe Repair" for over 22 years. Today, I have finally the released the WHOLE thing, as "Severe Repair: The Broken Text".
After years of trying and failing to fit Severe Repair into various different formats, I came to the realization that the text is unfixable – it's a big mess, a total disaster. But it's GOOD! Every time I start reading different parts of it I get drawn in and fascinated all over again. So I decided to release the whole thing, in its very raw and very flawed form.
At approx. 1,000 pages, with hundreds of characters, there is a lot to explore. Enjoy it!